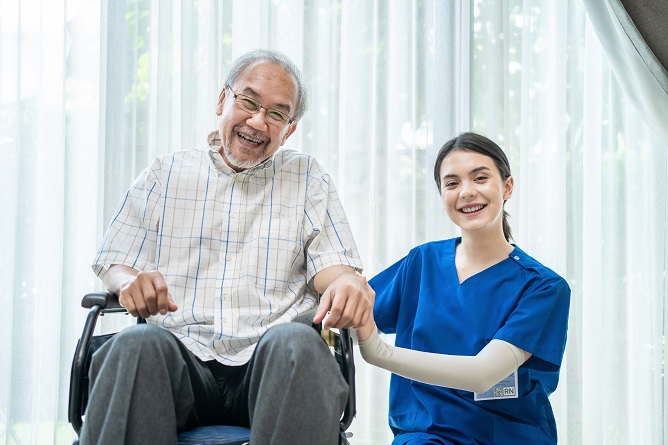 Dementia symptoms like wandering, sundowning, loss of focus, and confusion about time and place can increase the risk of falls and other unwanted incidents at home for seniors experiencing dementia. Here are a few steps families could take to promote a safer environment for their elderly loved ones at home:
Clearly Mark Glass Windows and Doors With a Sticker or Decal
Placing a sticker on glass windows and doors will help prevent collisions or falls in cases of wandering or confusion. Using do not open stickers can also help seniors recognize that they should not interact with the glass windows or doors.
Remove All Decorative Food
Decorative food like plastic fruit and food-shaped magnets are choking hazards for senior citizens with dementia. They might even cause accidental poisonings and other adverse effects. Our In-Home Care in Georgia can help keep your loved ones safe during meal times.
Keep Potentially Dangerous Tools and Appliances Out of Reach
To avoid any accidents, lock away dangerous kitchen appliances and tools. It is also best to lock away any harmful cleaning chemicals. Some notable examples include blenders, power tools, drain cleaners, and kitchen knives.
Put Stop Signs on Doors and Windows Leading Outside
In case of wandering, a stop sign can help reduce the risk of your loved ones finding themselves outside and getting lost. As an added precaution, make sure they have contact info with them at all times.
Consider Hiring Assistance
Care options like Skilled Nursing Services help supervise the safety and security of your elderly loved ones at home and address symptoms associated with dementia.
At LILLIE'S HELPERS LLC, we provide Alzheimer's and Dementia Care and Home Health Care in Macon, Georgia. For more information about home health care, call us at 478-216-6336.